Chávez bid to mediate Libya conflict dims further with official's indictment
A Spanish court on Monday indicted a senior Venezuelan official as a leader of the terror organization ETA, further undercutting Venezuelan President Hugo Chávez's credentials as a mediator for the Libyan conflict.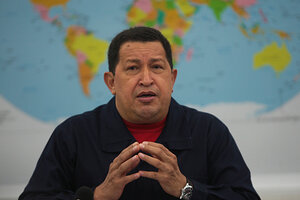 Miraflores Palace/Reuters
In yet another setback to Venezuelan President Hugo Chávez's efforts to mediate a peaceful resolution to Libyan hostilities, a Spanish court on Monday indicted a high-ranking Venezuelan official, originally from Spain, as one of the leaders of the terrorist organization ETA.
While the court proceedings are unrelated to unrest in Libya, Mr. Chávez's credentials as a possible peace broker are sure to come more into question as evidence mounts that his government is harboring and protecting international terrorists. Indeed, Chávez has personally ruled out extradition of the alleged terrorist leader.
Oil prices last week dropped on news that Chávez's plan to form an international commission to mediate between the government and the National Libyan Council was being seriously considered by Libyan government, Arab nations, and other developing countries. There were early American, French, and British objections to Chávez's involvement.
---
Follow Stories Like This
Get the Monitor stories you care about delivered to your inbox.