Gates visits Russia as Putin decries UN action on Libya
Russian Prime Minister Putin said the Western assault on Qaddafi's offensive capabilities resembles a medieval crusade.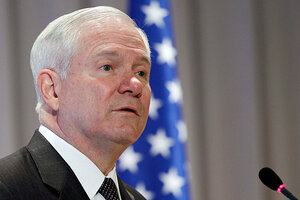 Charles Dharapak/Reuters
Defense Secretary Robert Gates will probably get an earful of Russia's objections to the United Nations-sanctioned military operation in Libya when he meets Tuesday with President Dmitry Medvedev.
A taste of what he might expect was unleashed Monday by Prime Minister Vladimir Putin, who compared the Western assault against Muammar Qaddafi's offensive capabilities to a medieval crusade.
"The [UN resolution authorizing the action] is defective and flawed," Mr. Putin said during a visit to a Russian missile factory. "It allows everything. It resembles medieval calls for crusades."
Russia signaled a new willingness to compromise with Western powers by abstaining on last week's UN Security Council resolution authorizing "all necessary measures" to protect Libyan civilians from forces loyal to Colonel Qaddafi – the former Soviet Union would have vetoed it in a heartbeat – but Moscow has since become harshly critical of what it sees as an excessive and ill-focused exercise of military power. And it's not only Russia.
---