France's Sarkozy faces rifts on Islam debate
French President Nicolas Sarkozy faces mounting criticism over plans for a national debate April 5 on the subject of Islam in France, a week before the new burqa ban takes effect.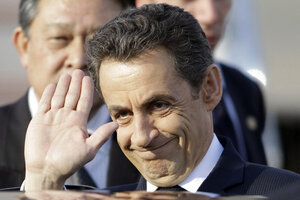 Koji Sasahara/AP
French President Nicolas Sarkozy, an early and strong voice for intervention in Libya, is striding tall as a world leader.
But at home his position is less commanding as he faces open dissent in his party over the merits of holding an April 5 debate on secularism and Islam in this nation that strictly prohibits religious talk or religious symbols in state affairs.
The debate follows speeches elsewhere in Europe on the "failure" of multiculturalism by German Chancellor Angela Merkel, British Prime Minister David Cameron, as well as President Sarkozy – speeches specifically aimed at Muslim integration.
But now the French president's political allies, among others, are shaking their heads over the April 5 event. Prime Minister François Fillon says he will not participate. An open letter this week from 12 leaders of France's main religious groups called the event mistimed, confusing, and bound to "stigmatize the nation's Muslim community." They questioned the appropriateness of a political party using the state apparatus to hold a debate on religious identity.
Sarkozy insists on forging ahead, though his United Popular Movement (UMP) has not yet announced specifics for the debate.
---