Gbagbo plays 'ugly colonialist' card as France intervenes in Ivory Coast
French-speaking Ivory Coast has long had close ties to its former colonial power. But relations have deteriorated under strongman Laurent Gbagbo.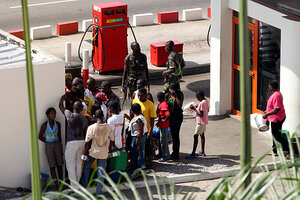 Luc Gnago/Reuters
French-speaking Ivory Coast has been one of the most enthusiastic of any former French African colony, even retaining its colonial name. The residence of the French ambassador and that of the Ivory Coast president are on the same street.
But under the presidency of strongman Laurent Gbagbo, relations deteriorated to the point that yesterday, as French troops took the city's airport to ensure safe departure of foreign nationals, Mr. Gbagbo finally played the "ugly colonialist" card.
French troops were planning a "Rwanda-style genocide" in Ivory Coast, state TV repeatedly stated on Sunday.
This horrified some 12,000 French nationals, a number down from 40,000 a few years ago. The French embassy Sunday night was attacked by "patriotic youth," according to Radio France International. And in Paris, Gbagbo envoy Alain Toussaint declared, "It is the French Army, which has put itself in the service of the rebellion … the French Army has become an auxiliary force of the rebellion."
As of early Monday, Gbagbo had reversed his hard-line position, saying via state TV that his forces will "ensure the security of the French," in spite of "France's maneuvers intended to bring death in Ivory Coast."
On Sunday, France sent 300 troops to Ivory Coast after an emergency meeting at the Élysees Palace, and today added another 150. Along with securing the airport, French troops tried to capture two bridges in Abidjan, a city of islands, that were linked to the airport, but were unable to after youth militia loyal to Gbagbo got there first.
---