Portugal requests bailout. Will Europe's debt crisis stop there?
Portugal formally requested a bailout Thursday, which will likely come just in time for it to pay back debts that come due in June.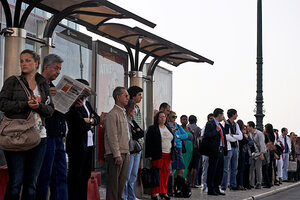 Francisco Seco/AP
In a critical step in Europe's struggle to end its debt crisis, Portugal formalized its bailout request and the European Central Bank raised its interest rates a notch on Thursday.
Portugal needs cash urgently, and with nowhere else to turn, it finally requested an embarrassing but unavoidable financial bailout from its European peers and from the International Monetary Fund.
The terms of the bailout and the sum, which analysts expect will amount to between 75 billion and 90 billion euros ($107 billion and $130 billion), still need to be negotiated in the upcoming weeks, but the money will likely arrive before the June snap general elections triggered by the resignation of Prime Minister José Sócrates late last month.
RELATED – Portugal bailout: Who's Europe bailing out, and by how much?
More important, analysts say, it will come just in time for the government to pay back pending debts that expire in June. Without the bailout, the juncture would have threatened to drain cash reserves, considering the premium the market demands for Portuguese debt.
Separately, the ECB also raised interest rates across the eurozone from 1 percent to 1.25 percent in an effort to curb inflation, a move which some believe comes too soon because it could slow down a still laggard recovery.
Both decisions were long expected and were well received by the market and analysts. The debt crisis is likely to stop with Portugal. Spain, which at one point many thought would be the next candidate for a bailout, has successfully tamed those fears.
---