Belarus terror probe widens into crackdown on opposition
Authorities say three suspects admitted involvement in Monday's bombing, but they are still searching for the group behind the blast in an investigation targeting Belarus's opposition groups.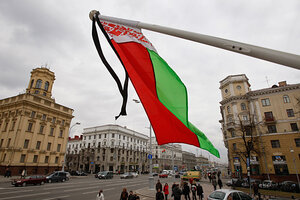 Sergei Grits/AP
Belarussian authorities said Wednesday that they have caught and extracted confessions from three people accused of detonating a powerful bomb that killed 12 people and injured more than 200 in a Minsk metro station Monday.
President Alexander Lukashenko, who has been Belarus's undisputed leader for the past 17 years, took to the airwaves after the arrests to announce that he has ordered security services to spread an even wider net as part of an investigation that is already leading to widespread crackdowns on opposition groups.
The head of Belarus's KGB security service, Vadim Zaitsev, said one of the suspects had confessed to planting the remote-controlled device, and the other two admitted to involvement in the plot. Their identity or whether authorities are aware of any motive has not been released. The main suspect, said Mr. Zaitsev, is a young man who is "not only unhealthy in his psychological state, but also unhealthy in his ambitions."
Human rights activists in Belarus were reporting Wednesday that several opposition politicians had already been summoned for questioning by the KGB in connection with the bombing.
Mr. Lukashenko said the aim of the crackdown is to catch not only the "fifth column" opposition members who he implied had ordered the attack, but also anyone spreading unspecified "rumors" about the terrorist attack, those who foment protests over food prices or currency devaluations, and people possessing unregistered firearms.
---