Persistence over bin Laden may reverse Europe's image of a US in decline
In the strike on Osama bin Laden, and in the Arab spring, some analysts see hope for the end of a chapter of global violent jihad – and the possibility of a larger swing toward democratic values.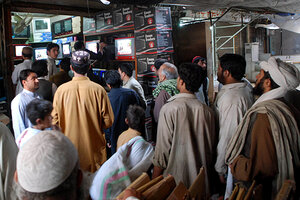 Arshad Butt/AP
US persistence in ending the decade-long hunt for Osama bin Laden may reverse a long-held perception in Europe that America is in decline – both in terms of its soft power as well as its military clout.
The news about the US attack on a compound in Abbottabad, Pakistan, that killed Mr. bin Laden comes after a season of Arab uprisings that are largely democratic in sentiment, received support from US and European leaders, and appeared to take place without Islamist or Al Qaeda backing. To some analysts, it holds out hope for the end of a chapter of global violent jihad started by bin Laden in the 1990s – and may enhance a larger swing toward sympathy with democratic values and a larger antipathy toward extremism.
"Seen from Europe, this is part of the return of America. The story a few years ago was America's relative decline, but this shows a return," argues Dominique Moisi, a leading intellectual at the French Institute of International Relations. "We see that democracy prevails as an aspiration and democracy prevails as a force. The way bin Laden was disposed of, not by a drone or a missile … that makes a difference."
---
Follow Stories Like This
Get the Monitor stories you care about delivered to your inbox.