Amnesty: Medvedev's promises of reform rarely materialize in Russia
A new report from Amnesty International shows little improvement in Russia's human and civil rights record, despite promises from President Dmitry Medvedev.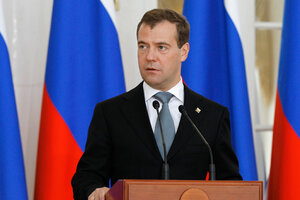 Dmitry Astakhov/RIA Novosti/AP
While many in Russia's beleaguered pro-democracy community hold out hope that liberal-minded Dmitry Medvedev will usher in a new era of government accountability and political reform, human rights watchdog Amnesty International issued a grim reality check today.
Amnesty's annual worldwide human rights report, released Friday, finds that little has changed in the three years Mr. Medvedev has been president – despite almost daily Kremlin talk about cleaning up corruption, protecting civil rights, overhauling the police, and making more space for political competition.
"Human rights defenders and independent journalists continued to face threats, harassment, and attacks, and investigations yielded few concrete results. Freedom of assembly and expression continued to come under attack, including through the banning of demonstrations, their violent dispersal and the prosecution of individuals under anti-extremism legislation," the report says, summarizing Russia's record over the past year.
"The leadership continued to stress its commitment to modernization, including by strengthening the rule of law and reforming the justice system. However,
pervasive corruption and the ineffective separation of powers were widely perceived as obstructing this agenda," it adds.
'No deep reform' to prison systems
One of Medvedev's signature campaigns aimed to reform Russia's previously untouchable police and prison systems. He launched it after a series of whistleblowers publicly alleged runaway corruption, unchecked brutality, and widespread tampering with criminal investigations within police ranks.
---