Irish village embraces Obama as its own
The president's trip to Ireland is seen as a symbol of US-Irish solidarity in hard economic times, but his stop in tiny Moneygall, where his Irish ancestors lived, has been a cause for celebration among residents.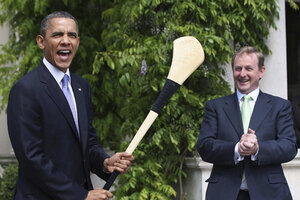 AP Photo
Moneygall, County Offaly, Ireland
The Birther movement may have been trying to prove President Barack Obama was born in Kenya, but perhaps they should have argued he was born in Ireland. Many here are more than happy to claim him as Irish as he makes his first state visit to the country.
Hot on the heels of last week's state visit by British Queen Elizabeth, President Obama arrived in Ireland today and Obamamania is already in full swing. He met this morning with Irish president Mary McAleese about peace in northern Ireland and with Prime Minister Enda Kenny about economic policy, but as far as most Irish are concerned, the visit is really about his public appearances, when he addresses a celebration in Dublin and makes a trip to rural Ireland.
The small County Offaly village of Moneygall is home to just under 300 people, including distant relatives to Barack Obama. The town's main street is decked out with both American and Irish flags, the houses and shops are freshly painted, and not a pothole can be found.
Moneygall resident Mary Ryan says residents are delighted to get a chance to see the most powerful man in the world.
"It's fantastic for the village. There's a great buzz around the place and a great community spirit. Everybody's out helping to prepare," she says.
---