Air France black box: Were the Air France Flight 447 pilots at fault for crash?
Air France black box: Air France Flight 447 was brought down by a combination of faulty speed sensors and confusion in the cockpit, according to a preliminary analysis by French investigators.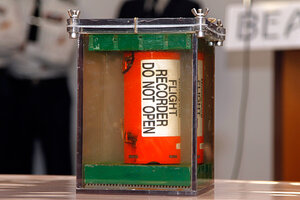 Charles Platiau/Reuters
A preliminary report on the Air France Flight 447 crash in the Atlantic Ocean two years ago suggests that while some equipment malfunctioned, the pilots' inability to respond properly to key instruments sent the plane into a 3.5-minute plunge that killed all 228 people aboard.
The findings by France's Bureau of Investigations and Analyses, based on data recently recovered from the Airbus 330's black boxes, bolster early suspicions that speed sensors known as Pitot tubes had iced over and malfunctioned. This was a problem on Airbus planes that Air France had been aware of at the time of the crash, which occurred en route from Rio de Janeiro, Brazil, to Paris.
But the findings indicate that it wasn't the malfunctioning speed sensors alone that brought the plane down. They also suggest that pilots had enough information at their fingertips to determine what was happening, suggesting that they were not experienced or not prepared to deal with the sudden crisis that developed two hours into the transatlantic flight. Cockpit displays remained accurate and the engines remained fully functional and responsive to the pilots throughout the flight.
When a plane such as the Airbus 330 in question gets conflicting information from various speed sensors, the autopilot and auto-thrust systems shut down – handing control over to the pilot.
That's precisely what happened two hours and 10 minutes after Flight 447 left Rio, less than 10 minutes after the captain had left the cockpit for a routine break. He was quickly called back to the cabin to try to help the copilots respond to repeated warnings as the plane stalled, and began falling toward the ocean.
---