Ratko Mladic's capture: Was timing coincidence or careful calculation?
The capture of suspected war criminal Ratko Mladic came as a top EU envoy was traveling to Serbia to warn that an EU vote on Serbian membership hinged on Mladic's status.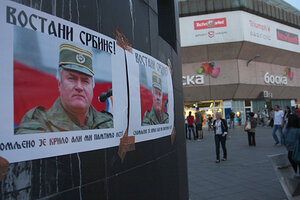 Radivoje Pavicic/AP
The arrest of Bosnian Serb Gen. Ratko Mladic after 15 years on the run astounds many Balkan experts who thought the day would never come. Mr. Mladic's legendary ties to the Army and his purported hold on Serbian pride were thought to make him untouchable. Instead, today he is in a Belgrade jail, awaiting extradition, and having been granted a request of strawberries and a TV set, according to Serb media.
But Thursday's arrest comes amid key changes in international and Serbian thinking – ranging from the killing of Osama bin Laden, to the Arab Spring, the economic crisis in Europe. It includes stern warnings to Belgrade by European Union officials and a damning report on Serbia's noncooperation on Mladic by the chief prosecutor of the United Nations Yugoslav tribunal.
The Serb general remains popular in parts of Serbia and among nationalists that repeat the slogan "only unity will save the Serbs." But in the end, Mladic, the accused architect of the 1995 Srebrenica massacre, may have been too great a liability for a country whose new generations seek to join Europe and emerge from isolation, say analysts.
Mladic's extradition to The Hague, expected next week, will remove the largest obstacle to Serbia's bid to join the EU amid low enthusiasm for enlarging the 27-member union. Europe is not in the same robust state as five years ago. Statements by German Chancellor Angela Merkel that Mladic's arrest is "the best basis for the region achieving reconciliation and a future in Europe," may be taken with some relief by the government of Boris Tadic.
---