US court system confounds French as Dominique Strauss-Kahn pleads not guilty
Former IMF chief Dominique Strauss-Kahn pleaded not guilty in a New York court today to charges of raping a hotel maid. Many French are alternately horrified and fascinated as they track the US judicial proceedings.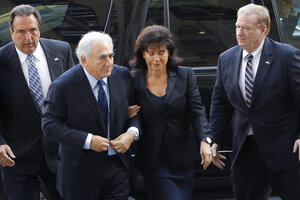 Mike Segar/Reuters
As former IMF chief Dominique Strauss-Kahn is arraigned this morning, the case of "People v. Strauss-Kahn, 1225782, Criminal Court of the City of New York" continues to alternately horrify and fascinate the French. A central issue is the difference between the French system of justice, which stresses privacy and arguably is more lenient toward accused, and the more adversarial US one.
That an international French figure, once assumed by many here to be the next president, could appear at a New York court on sexual assault charges as a common criminal, remains "incroyable." Many French love American crime TV, but it seems stranger than fiction to be watching a US courtroom drama whose central character is sometimes called "the most intelligent man in France," many here say.
All main French TV channels covered Mr. Strauss-Kahn live. Strauss-Kahn pleaded not guilty to raping a maid who entered his room at the Sofitel Hotel near Times Square last month. His legal team, headed by Benjamin Brafman, now a household name in France, refused to comment after the plea.
In an editorial titled, "Mere crime story or political tsunami?" Le Monde, the French newspaper of record, said today that the "The DSK affair is a mixture of a bit of everything: a crime story, a family tragedy, professional downfall, political desertion, as the former IMF director was poised to win the Socialist primaries due to begin at fall…."
---