Christine Lagarde breaks barrier as new IMF chief
In replacing Dominique Strauss-Kahn as IMF chief, French Finance Minister Christine Lagarde becomes the first woman to lead the fund.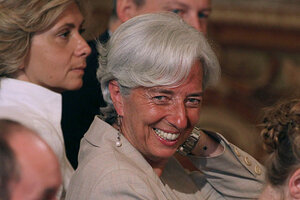 Michel Euler/AP
She was the most likely candidate: Christine Lagarde, French minister of finance and economy, had been Europe's favorite to succeed her fellow countryman Dominique Strauss-Kahn as head of the International Monetary Fund.
When the US and Russia officially joined the group of her supporters earlier Tuesday, it was clear that the Parisian would snap the post from her last remaining competitor, Mexican central banker Augustín Carstens.
"The executive board agreed that both candidates are highly qualified," the IMF said in a statement read out by senior adviser David Hawley in Washington. "The objective was to select one by consensus. Ms. Lagarde was selected after considering all relevant information."
"I am honored and delighted that the board has entrusted me with the position of managing director of the IMF," Ms. Lagarde said in a Twitter post a few minutes after the decision was announced. She will start her five-year term on July 5.
---