EU leaders agree on Greek bailout. Turning point in euro crisis?
European leaders in Brussels today agreed to a deal for Greece that includes $156 billion in aid, private investors, and extending the maturity period on Greek bonds.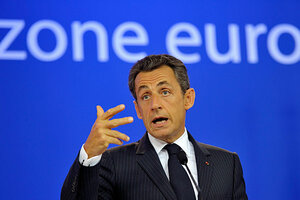 Philippe Wojazer/Reuters
It was billed as the meeting that would save the common European currency and dissolve the debt crisis that has shaken Greece and other members of the eurozone.
"We have to find a solution for the whole union," said Jean-Claude Juncker, Luxemburg's prime minister and president of the Eurogroup, as he entered today's emergency summit of European leaders in Brussels. "We can't come up with new measures every other week."
So did the summit succeed? According to the politicians, it did.
Herman van Rompuy, president of the European Council, broke the news to the media: "I am glad to announce we have reached an accord. We offer a solution to the Greek debt problem, and we will reform the management of the euro. We said we would not waver in the defense of the monetary union. We meant it."
The help for Greece includes a second bailout package of 109 billion euros ($156 billion). The maturity period of Greek bonds will be increased from 7 to 30 years and the interest rates Greece has to pay will be lowered to about 3.5 percent.
"Greece will be able to repay all of its debts," French president Nicolas Sarkozy said with conviction. But he was quick to add: "What we are doing for Greece, we will do for no one else."
For the first time, private lenders will be part of the bailout. Mr. Sarkozy announced they would provide 135 billion euros ($194 billion) over 30 years. Asked if the measures constituted a partial default of Greece, Mr. Sarkozy refused to be drawn in: "I am not a rating agency," he said. "I won't be using these words."
---