Berlin Wall turns 50 – and some want to rebuild it, barbed wire and all
Fifty years to the day after the Berlin Wall was built overnight by East German officials, little of it remains. Some argue in favor of restoring portions of the hated structure as a memorial.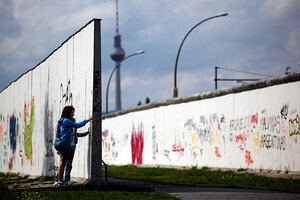 Pawel Kopczynski/Reuters
Fifty years after the Berlin Wall was literally built overnight on Aug. 13, 1961, very little of it is left to look at. So little in fact, that some – even those who nearly lost their life because of it – want to see portions of the much-hated structure rebuilt.
Two years after former President Ronald Reagan declared, "Tear down this wall!" the 1989 revolution not only led to Berlin's reunification but brought legions of souvenir-hunters to the city, chipping away at the "anti-fascist protection rampart" with chisels and hammers.
Industrial-size machinery joined the effort and by 1991 the wall, which East German leader Erich Honecker had promised would last a century, had all but disappeared. Ever since, historians have complained, and tourists have been disappointed.
"It was wrong to take all those pieces of Berlin Wall, paint them and send them off into the world as souvenirs of a peaceful revolution," says Berlin's former Mayor Eberhard Diepgen, who governed West Berlin from 1984-89 and a reunited Berlin for a decade beginning in 1991.
A few weeks ago Mr. Diepgen proposed to put parts of the wall back up, "as accurately as possible, with barbed wire, watch towers, and spring guns, so the brutality of the system is evident." His article in a Berlin daily caused strong public reactions; readers called the idea "bizarre," "ahistorical," "the wrong signal for the city."
---