Nobel Peace Prize highlights role of women in achieving peace, democracy
The 2011 Nobel Peace Prize was awarded to a trio of women's rights activists: President Ellen Johnson Sirleaf and Leymah Gbowee of Liberia, and Tawakkul Karman of Yemen.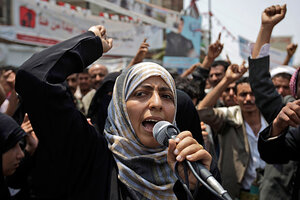 Hani Mohammed/AP/File
The Norwegian Nobel Committee awarded this year's Nobel Peace Prize to three women for promoting women's rights through peacebuilding work in Liberia and Yemen, and passed over contenders from the launching pads of the Arab uprisings – Tunisia and Egypt.
The award, which had only been bestowed on a dozen women before today, was shared between Liberia's Ellen Johnson Sirleaf, Africa's first democratically elected female president; Leymah Gbowee, who mobilized women across ethnic and religious lines to bring an end to war in Liberia; and Tawakkul Karman, head of Women Journalists Without Chains, who played a leading part in the struggle for women's rights and democracy and peace in Yemen.
Committee chairman Thorbjørn Jagland acknowledged the widespread expectation that the award would be given to at least one Arab Spring activist, but said that the committee's larger goal was to highlight that the freedom and rights of women was an important prerequisite to a society becoming truly democratic.
"We have included the Arab Spring in this prize, but we have put it into a particular context and I think the most important context maybe," said Mr. Jagland. "If we fail to include the women in the revolutions of democracy, there will be no real democracy. This is the most important issue in all of the Arab world, namely the oppression of women."
---