Cameron's EU veto stirs discontent (VIDEO)
British Prime Minister David Cameron today defended his veto of greater EU fiscal integration as a protection against London's financial sector.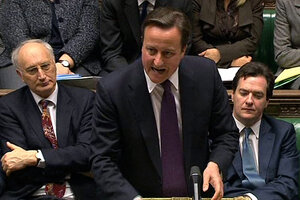 AP
Prime Minister David Cameron was hailed a hero by fellow Conservatives today for vetoing a European Union move toward greater fiscal integration, despite the fact that it now threatens to undermine his coalition government.
Mr. Cameron was alone among the leaders of 27 European countries at a Dec. 9 summit who chose not to endorse changes to the Lisbon Treaty, which outlines the legal framework for the EU. The changes were designed to strengthen the crisis-hit euro currency, but in a defense before Parliament today Cameron said they would threaten London's financial sector, which is one of the most robust sectors of the UK economy.
The veto decision has sparked a wide-ranging debate about the United Kingdom's commitment to the EU, with some questioning whether the country should remain in it at a time when eurozone finance ministers are struggling to keep the currency afloat. While the UK has retained the pound as its currency and is not a member of the 17-nation eurozone, it is subject to EU legislation that affects many aspects of British society, including its crucial banking sector.
Weekend polls suggested that Cameron enjoys the support of a comfortable majority of Britons, but the vote has drawn strong criticism among his coalition partners. In particular, Deputy Prime Minster Nick Clegg of the Liberal Democrats warned that the UK was in danger of becoming an isolated, "pygmy" nation on the world stage. He was noticeably absent on the government benches today when Cameron explained Friday's maneuverings.
Today Cameron said his decision to wield the veto was made in "good faith" and was "right for the country," sparking fierce criticism from the opposition Labour benches.
---