Spain, Italy on the mend? Investors make it easier to borrow
Spain and Italy hit their borrowing targets today, benefiting from favorable lending rates that signal eurozone investors' cautious confidence.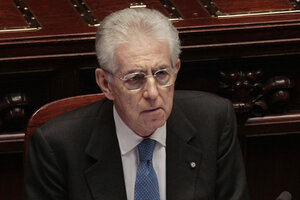 Gregorio Borgia/AP
The eurozone heaved a sigh of relief today: Italy and Spain, the eurozone's third- and fourth-largest economies, were able to borrow fresh money at surprisingly favorable terms, indicating growing confidence about their economic prospects.
In anxiously expected bond auctions, Spain raised €10 billion ($12.8 billion), double its target, according to the Spanish Treasury. Italy reached its target of €12 billion ($15.3 billion). And the much-needed cash came at a very good price. The interest rates for the Spanish bonds ranged from 3.3 to 4 percent, while Italy has to pay between 1.6 and 2.7 percent interest, depending on the duration of the bonds.
The two countries have been struggling to decrease their debt load, but high borrowing rates have been an obstacle. Only a month or so ago, both countries had to pay more than 6 percent interest to sell their sovereign papers. At times, the interest rates surpassed the 7 percent mark, which is generally regarded as the level at which borrowing becomes unsustainable.
"We are seeing light at the end of the tunnel that is the euro crisis," says Robert Halver, an analyst with Baader Bank in Frankfurt. "This is due to the intervention by the European Central Bank."
The ECB provided banks with almost €500 billion in three-year loans last December and announced it would offer the same amount early in 2012.
In a meeting with German Chancellor Angela Merkel yesterday, before the bond auction, Italian Prime Minister Mario Monti complained that despite Italy's painful efforts to cut costs, it "got nothing in return from Europe, such as a drop in interest rates."
---