Third survivor rescued from capsized cruise ship
Authorities in Italy are holding the captain of the wrecked Costa Concordia cruise ship for abandoning the boat before all passengers had escaped.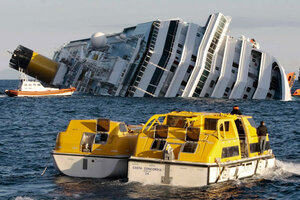 Gregorio Borgia/AP
A helicopter on Sunday airlifted a third survivor from the capsized hulk of a luxury cruise liner 36 hours after it ran aground off the Tuscan coast, as prosecutors said they were investigating the captain for manslaughter and accused him of abandoning his ship.
Authorities reduced to 17 from 40 the number of people still unaccounted for, with an Italian who worked in cabin service pulled from the wreckage of the Costa Concordia off the tiny island of Grigio. A South Korean couple on their honeymoon were rescued late Saturday in the unsubmerged part of the liner when firefighters heard their screams.
Three people are confirmed dead after the huge cruise ship carrying more than 4,200 people ran aground on Friday night, forcing a chaotic evacuation. There are now six crew members and 11 passengers who haven't been located, Tuscany's regional president Enrico Rossi said.
IN PICTURES: Costa Concordia runs aground
Authorities were holding the captain for suspected manslaughter among other possible charges and a prosecutor on Sunday confirmed allegations that the captain abandoned the stricken liner before all the passengers had escaped, which would be a criminal offense.
Asked Sunday by Sky Italia TV about the accusations, Grosseto prosecutor Francesco Verusio replied, "unfortunately, I must confirm that circumstance."
Witnesses: captain fled early
---