Croatia votes to join EU, but with great ambivalence
While support for Croatia's EU membership ultimately prevailed, enthusiasm was tempered by fears of giving up short-lived sovereignty and the impact on local industries.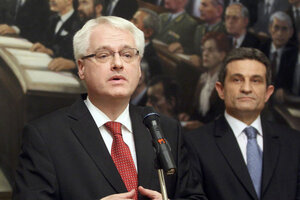 Damir Sencar/REUTERS
Croatia voted in favor of European Union membership in Sunday's referendum, showing that for most Croats, membership in the economically troubled union still offers hope of economic and political progress for the Balkan nation.
With almost all the ballots counted, the electoral commission announced that 67 percent had voted in favor of joining the bloc, with about 33 percent against. The result confounded recent surveys suggesting that the referendum would be very close. But an approximate turnout of 45 percent suggests that only three in ten Croatian voters are enthusiastic enough about EU membership to have gone to the polling stations to express their support.
On the eve of the referendum, an anti-EU demonstration in Zagreb attended by activists including war veterans turned violent, as demonstrators clashed with police, leading to several arrests.
Croatia is now expected to join the EU on July 1, 2013, subject to the approval of all existing member states.
Most of Croatia's political class and the mainstream parties have strongly backed membership, which President Ivo Josipovic has called "a turning point in our history." Accession is expected to bring a range of benefits, including increased access to generous EU funding and improved freedom of movement and employment opportunities for Croatians within and beyond the member states.
Prior to the referendum, campaigners in favor of EU membership argued that a "no" vote would cost Croatia some €1.8 billion ($2.3 billion) in EU funding over the next three years – cash that the country sorely needs to revive its economy, flagging like much of the EU.
---