The Merkel-Sarkozy 'odd couple' becomes a campaign duo
German Chancellor Merkel is campaigning for French President Nicolas Sarkozy, overcoming a history of differences across the Rhine, including two world wars.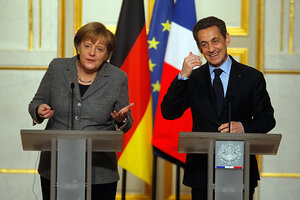 Michel Euler/AP
A German chancellor stumping for a standing French president is not something the French have seen before.
But Angela Merkel hit the airwaves here yesterday on behalf of the embattled Nicolas Sarkozy, saying in a TV interview it was "only natural" for her to cross borders to support the reelection of a fellow conservative-minded leader.
In France the idea is alternately depicted as bold and reassuring or a ridiculous last ditch measure by Sarkozy forces – defying history and culture on the two sides of the Rhine, and transcending two world wars.
Ms. Merkel's party apparatus endorses the idea as does Sarkozy's. The less clear question is what French voters will think.
"Sarkozy thinks it will pay off with centrist voters and those who feel that France needs more reforms and more German-style reforms," says Thomas Klau of the Paris branch of the European Council of Foreign Relations. "But this is a political risk with a possible backlash. To constantly tout Germany as a model to follow is not quite seemly for a French president."
---