Tour de France champ Alberto Contador vows to challenge doping verdict (+video)
The controversial conviction of Spanish cyclist Alberto Contador, together with the US decision to drop a Lance Armstrong investigation, highlights the political and legal challenges of cleaning up sport.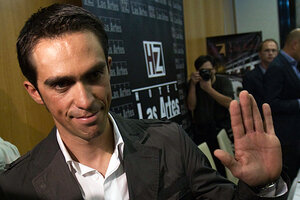 Juan Medina/Reuters
Three-time Tour de France champion Alberto Contador signaled today his intention to appeal the doping conviction handed down yesterday by the Court of Arbitration for Sport (CAS) after a grueling 18-month legal battle.
"I want to go all the way," said an unapologetic yet visibly distraught Mr. Contador, who had once vowed to quit the sport if determined guilty.
The controversial conviction of the Spanish cycling hero has highlighted both scientific advances and weaknesses in the unorthodox legal system used to police international sports.
Unlike some other high-profile doping investigations, the issue was not whether a banned substance had been detected: Everyone, including Contador, agreed that minute traces of the performance-enhancing drug clenbuterol had been found in his system during the 2010 Tour.
Instead, it was the length of the process – 18 months of legal wrangling, heavily covered in the press – that left all sides equally suspicious of foul play. Contador's case highlights that as the World Anti-Doping Agency (WADA) enters its second decade, cleaning up sport is becoming less of a technical challenge and more of a political and legal one.
The ruling against the Spanish hero came just after US federal prosecutors announced they had dropped their two-year probe of alleged doping by Lance Armstrong, a seven-time Tour winner and global cycling legend. That decision is also being criticized as politically influenced.
---