Serbs in Kosovo reject independence, Pristina's governance
Serbs living in northern Kosovo overwhelmingly rejected the state's independence in a referendum, voting against accepting rule from Albanian-dominated Pristina.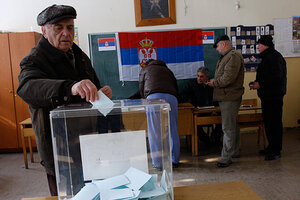 Zveki/AP
Serbs in Northern Kosovo rejected the fledgling state's independence in an overwhelming vote this week. The vote indicates the frustration and alienation felt by the Serbian minority in Kosovo, which they see as part of Serbia.
A remarkable 99.7 percent of voters voted "no" to accepting rule from the ethnic-Albanian dominated institutions of Pristina, the Kosovan capital, with fewer than 70 ballots in favor. But despite the unequivocal result – reminiscent of a North Korean "election" but almost certainly fair – the vote is extremely unlikely to move this frozen conflict any closer to resolution. The Serbian government, anxious to move closer to the European Union, opposed the vote. This has drawn criticism from the international community (including the EU), which fears it could ramp up tensions in the region.
Kosovo declared independence from Serbia four years ago this month, having been administered by the UN since 1999, when international efforts ended war between the then Yugoslav military and the Albanian insurgents of the Kosovo Liberation Army (KLA). Serbia has refused to recognize Kosovo's independence, a position backed by Russia, China, and several EU member states. The predominantly Serbian north of Kosovo continues to be ruled de facto from Belgrade, with little influence from Pristina. The poll was held in the four Serbian-controlled provinces, where 40,000 of Kosovo's 120,000 or so Serbs live.
---