Euro crisis: Cash-strapped Italy sells off iconic lighthouses
The Italian island of Sardinia is leasing several formerly state-owned, out-of-use lighthouses to private developers who plan to capitalize on their pristine coastal surroundings.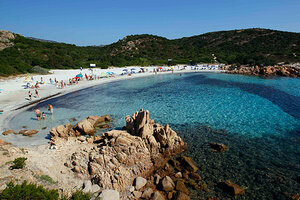 Max Rossi/Reuters/File
They command stunning coastal views of one of the Mediterranean's least spoiled islands, but now, as Italy's new government attempts to chip away at the country's €1.9 trillion ($2.5 trillion) debt, a clutch of abandoned but picturesque lighthouses on the island of Sardinia will be sold off.
The sale is part of the Italian government's efforts to balance the books by capitalizing on a valuable portfolio of state-owned property, from disused Army barracks to castles, former convents, and even islands. The lighthouses, which overlook the powder-white beaches and turquoise bays that have made Sardinia such a tourist magnet, are to be leased to private businesses and converted into unusual hotels, galleries, and museums.
They are being offered for sale by the island's autonomous government. Squeezed by the drastic cuts announced by Prime Minister Mario Monti, the sober technocrat appointed in November, the island's government can no longer afford the cost of maintaining the lighthouses, much less restoring them.
The buildings, most of them built in the 19th century, command views of some of Sardinia's loveliest stretches of coastline, from the famed Maddalena archipelago, off the northeastern tip of the island, to the nearby Emerald Coast, where former premier Silvio Berlusconi has a luxury villa. They are no longer in use because they have been replaced by more modern automated lights.
"They have been inaccessible to the public for ages because they were owned and run by the Coast Guard or the Navy," says Alessio Satta, the executive director of Sardinia's Agency for Coastal Conservation, which is managing the sell-off.
"Some are in good condition and need just a little investment, while others are in a really bad state and would need a couple of million euros of refurbishment."
The model for the sell-off is the Capo Spartivento lighthouse in southern Sardinia, which has been converted into a five-star luxury retreat. It is Italy's first – and so far only – lighthouse hotel.
---