Ireland may get concessions in exchange for 'yes' on EU fiscal treaty
Ireland's approval of the EU fiscal treaty passed in January is dependent on a public referendum, the attorney general said today. Ireland might demand concessions in exchange for approval.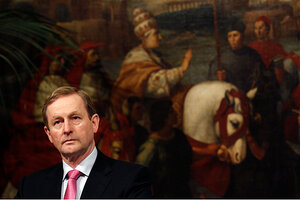 Alessandro Bianchi/Reuters
The Irish government today announced it would green-light a public referendum on the fiscal union treaty the European Union agreed to at a special summit last month. Should the Irish public reject the treaty – a poll last month says opinion is divided: 40 percent say they would vote yes, 36 percent no – it could find itself isolated from the rest of the eurozone.
The uncertainty presents Ireland with the opportunity to demand concessions from the EU on debt repayments in order to ensure that the public approves the treaty, which the EU is desperate to see passed.
Irish Attorney General Máire Whelan today ended a vociferous debate over whether the EU treaty had to be put to a vote. Whelan decided that EU treaties constitute changes to the Irish Constitution and therefore have to be put to a public vote.
Many in Ireland's governing coalition, nervous about the possibility of a rejection, sought to avoid a referendum – with some support from the EU. Prime Minster Enda Kenny said today that passing the measure would be in Ireland's national interest and that he was "very confident" of a yes vote.
"It gives the Irish people the opportunity to reaffirm Ireland's commitment to membership of the Euro, which remains a fundamental pillar of our economic and jobs strategy," he said in a speech to parliament, interrupting scheduled business.
---