No prison: Norway indicts 'insane' Breivik for terror, murder
Prosecutors will seek compulsory mental care, not imprisonment, for Anders Behring Breivik, the Norwegian gunman responsible for last year's twin terror attacks.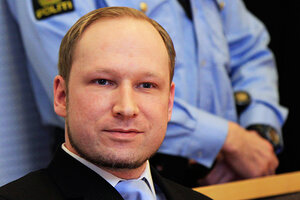 Lise Aserud/Scanpix Norway/AP
Norwegian prosecutors officially indicted Anders Behring Breivik, the self-confessed gunman behind last year's July 22 twin terror attacks, on charges of committing a terrorist attack and premeditated murder. But because Mr. Breivik was declared to be in a psychotic state at the time of the attack, prosecutors are seeking a sentence of compulsory mental care, rather than imprisonment.
The terms of today's indictment were expected, given Norway's Forensic Board's conclusion last year that Breivik is psychotic and therefore not punishable under Norwegian law for the 77 killed in Norway's worst national tragedy during peacetime.
However, the indictment provides grounds to pursue a prison sentence for Breivik if the prosecution changes its mind during the trial. Breivik was charged with committing a terrorist act and premeditated murder, first during the government bomb blast in Oslo that killed eight and later that day in the mass shooting spree on the island of Utøya at the Labor party's summer youth camp that led to 69 deaths.
Svein Holden, Oslo public prosecutor, told The Christian Science Monitor that the prosecution would disclose its decision on whether to alter the indictment during closing arguments of the 10-week trial, which is set to start on April 16. One of the key factors in its decision will be the conclusion from the second court-ordered psychiatric evaluation, which is due on April 10.
---