US-Russia 'reset' gets a boost with Russian offer of airbase
Russia has made an unprecedented offer that indicates a desire to improve ties ahead of the US withdrawal from Afghanistan.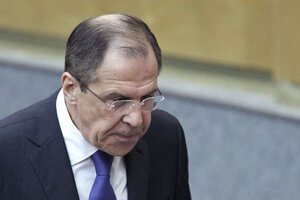 Misha Japaridze/AP
In an unprecedented move, Russia is offering NATO the use of a Russian airbase for aircraft refueling and the transit of "non lethal" supplies and personnel. Moscow says the offer is an effort to ease the strain on the alliance's increasingly restricted supply chain to forces in Afghanistan.
The tentative offer was described yesterday by Foreign Minister Sergei Lavrov during a speech to the Russian Duma, the lower house of parliament. It could see up to 30 NATO cargo flights a day come through the Vostochny airport in the Volga region of Ulyanovsk, en route to or from Kabul, about 2,000 miles away.
NATO has been struggling to deliver supplies to troops in Afghanistan since Pakistan's decision in November to close US overland supply routes into Afghanistan. And if Kyrgyzstan follows through with its announcement this week that it wants to make an airbase used by NATO a purely civilian facility, that could throw another wrench into NATO's supply efforts.
The plan still needs to be approved by the Russian government, but there seems little doubt that the idea comes straight from the Kremlin and is unlikely to face any obstacles.
---