Russia exasperated with US over missile defense
A top Russian defense official today signaled growing frustration with the US, which has refused to provide legal guarantees that a planned missile-defense shield is not directed at Moscow.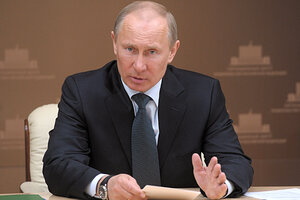 Alexei Nikolsky/Government Press Service/RIA-Novosti/AP
A top Russian defense official warned Thursday that NATO's plans to install an anti-missile shield in Europe are a "litmus test" for future relations between Moscow and the West.
The tough statement by deputy defense minister Anatoly Antonov comes ahead of a planned summit between Russian president-elect Vladimir Putin and President Obama, and signals Moscow's growing exasperation with the US position after a flurry of optimism earlier this month.
Russian sources say it appears to be a long and empty dialogue that will ultimately leave Russia out in the cold as NATO deploys its missile shield, which is ostensibly meant to protect against Iranian missiles.
"This is a very sensitive subject for us," says Andrei Klimov, deputy chair of the State Duma's international affairs committee. "It looks like the Americans are just stringing us along. If this anti-missile system is really not directed against Russia, why not sign a legal document declaring that? Why not to give Russia access to real monitoring of the system?"
Russian military experts say the planned missile shield would, in its later stages, undermine the country's nuclear deterrent. Unless the US makes a legally binding pledge never to use the weapons against Russia and makes Moscow an equal partner in a joint system, they say, a new arms race with the West looks inevitable.
---