Spain leader vows hard line as hundreds of thousands protest austerity
Fed-up Spaniards took to the streets in a national strike Thursday, as Prime Minister Mariano Rajoy struggled against waning political support for his unpopular economic policies.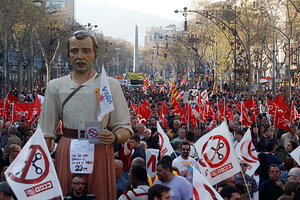 Gustau Nacarino/Reuters
Hundreds of thousands of Spaniards marched Thursday in the first general strike against strangling austerity, only the most recent challenge to the new conservative government of Prime Minister Mariano Rajoy fending off resistance from all sides.
"We can't take this anymore," says Eva Cañamares, a station manager in Madrid's subway system. Her 11 and 9-year old children were passing out union flags beside her in the central Puerta del Sol plaza, where tens of thousands chanted against government economic policies.
"I'm here for my children. They are taking away all our rights and this also affects them," Mrs. Cañamares says, echoing the strike's slogans. "They want to do away with everything.… The government just wants to take away everything and not even negotiate."
By early evening, there were more than a dozen injuries, dozens of arrests, and violent clashes reported throughout Spain, but these were the exceptions to the mostly peaceful march.
The strike was long expected and almost certainly won't be the last. Many stores in Madrid shut down and transport was limited to 30 percent of its usual service, causing chaos. But support for the strike was also far from universal.
Still, patience is thinning after more than three years of budget cuts and ever-growing unemployment. It will likely be at least two more years before the economy hits bottom.
---