As French election goes into high gear, it's Mr. Hot vs. Mr. Cool
President Sarkozy is in full attack mode against Socialist frontrunner François Hollande, bringing a rarely seen element to French campaigning.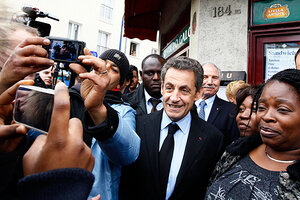 Francois Mori/AP
Just over a week before Round 1 of France's presidential elections, the race is tightening into a duel between Mr. Hot and Mr. Cool – Nicolas Sarkozy and François Hollande.
President Sarkozy is in full attack mode as Mr. Hot, doubling down, slashing, shooting in all directions, getting personal, scoffing at frontrunner Mr. Hollande, and warning that France faces a fearful future if he is not reelected.
Mr. Sarkozy's recent "Letter to the French People" raises perils on nearly every page: of Islamic radicals, unchecked immigration, and a France slipping into an economic crisis like that of Greece or Spain. Sarkozy now wants two TV debates before the runoff on May 6 that decides the presidency.
It's a hot attack style rarely seen in French politics. Sarkozy's numbers are not moving, and analysts say he needs momentum going into the second round.
"I'm going to win and I'll tell you why," Sarkozy said recently. "He [Hollande] is no good and people are starting to see it. Hollande is useless." Today, Sarkozy said his adversary's policies would bring a "massive crisis of confidence" in the economy.
Mr. Cool, the Socialist Hollande, continues on with a 7-10 point lead in the second-round May 6 vote that, in yesterday's opinion polls, appears to be cementing, if anything. He is playing things low key, appearing affable, making no fearful tirades, smiling a lot, and refusing to step into a muddy ring with Sarkozy, even when the latter smeared his journalist girlfriend as a "caviar liberal."
Mr. Cool's strategy is to make no mistakes and to outlast Sarkozy by gathering, rather than hunting, the center votes of a weary France he feels is ready for change.
---