In a tight French election, Sarkozy is suddenly everywhere
Ahead of April polls, It's all Sarkozy all the time as the embattled president uses his Elysée Palace pulpit to salute national triumph at the Oscars and exhibit authority on weightier matters of office.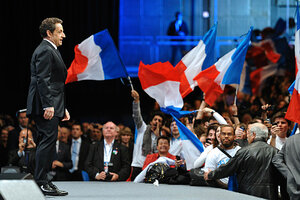 Eric Feferberg/Reuters
There seem now to be no electronic or digital news pulses emerging out of France that do not involve Nicolas Sarkozy. It's election season and the French leader is gaining in the polls in a tight race, so it is suddenly all Mr. Sarkozy, all the time.
Today, Sarkozy said it is unclear if injured French journalist Edith Bouvier has escaped from the city of Homs in Syria, having earlier given better news. Yesterday, Mr. Sarkozy said he would resubmit a controversial bill making it a crime to deny the Armenian genocide, brushing aside a court ruling that an earlier version was unconstitutional. On Feb. 27, Sarkozy tied himself to France's Hollywood Oscar sweep, praising "The Artist" and French arts in general. He made further headlines this week – and it's only Wednesday -- when his campaign quietly dropped plans to have Germany's Chancellor Angela Merkel stump for him. The unusual "Merkozy" team is off for elections.
This quick list doesn't include Elysée Palace news on troops in Afghanistan, peace in Syria, Iranian nuclear ambitions, the euro crisis, and all manner of high-level presidential business that Sarkozy's main rival, Socialist frontrunner François Hollande, cannot match.
---