Elizabeth barges down the Thames for Diamond Jubilee
The pageantry for Queen Elizabeth's Diamond Jubilee included a royal barge trip down the Thames today and hundreds of thousands cheering her on from the banks.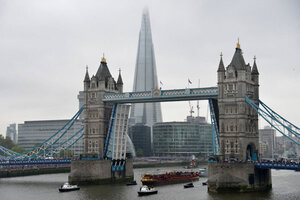 Toby Melville/Reuters
At the head of a 1,000-ship flotilla, Queen Elizabeth traveled by royal barge down the Thames on Sunday, launching a summer of pomp and spectacle here that includes the Queen's Diamond Jubilee and the Olympic Games.
Hundreds of thousands braved the rain on river banks and bridges as Elizabeth – celebrating her 60th year on the throne – waved from her vessel, the Gloriana. Two Olympic oarsmen helped row her red and gold-leaf barge seven miles from Chelsea Pier to Tower Bridge.
The Olympians were a reminder that the show-boating in London has only just begun, with the 2012 Games opening here next month. The grandeur befits a city at the center of global trade and finance, with Elizabeth harkening back to traditions of English naval power. But it also contrasts with Britain's double-dip recession, deep government spending cuts, and a half-century ethos here of self-deprecation.
Some Londoners welcome the showcases as an expression of endurance and a chance for celebration even amid hard times.
"It is a very depressing time at the moment if you listen to news and watch TV, it's all doom and gloom. It gives people a chance to celebrate and come together," says Brenda Simpson, a retiree who waited six hours with her husband and sister on the banks for a view.
---