Russian activists sound alarm at soaring fines for civil 'disorder'
The Russian parliament is rushing through a bill that will impose large fines for a wide range of protests. Activists say the hikes amount to financial intimidation to chill the protest movement.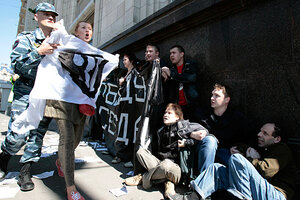 Sergei Karpukhin/Reuters
As the Russian Duma rushes through a bill that will drastically raise fines for taking part in an unsanctioned political meeting, more than two dozen people were arrested outside the parliament today for protesting the hike, which activists say will raise the fines to cost-prohibitive levels, chilling most forms of public activism.
Among those hauled away by police was the leader of the liberal Yabloko party, Sergei Mitrokhin, who says that he and other activists were only standing on the street and handing out leaflets advertising a legally-permitted political protest due to take place later in the morning. Reached on his cellphone, Mr. Mitrokhin said authorities were trying to prevent activists from carrying out even the most basic activities that are considered normal in any democratic society.
"This is how things are going. Soon we will not be able to hold mass meetings or even any sort of street gathering," he says. "The law under preparation is the law of a dictatorship; the crackdown is already underway, not only in Moscow but around the regions of Russia as well."
The bill that's being hurried through its final two readings by the pro-Kremlin majority will impose fines on individuals of 20,000 roubles ($660), or up to 50 hours of community labor, and registered organizations up to 300,000 roubles ($10,000) if any "disorder" takes place, even during the course of a legally-permitted rally. Fines for unsanctioned meetings, even flash mob-type protests, will go up to 200,000 roubles ($6,600). If any injuries take place in the course of public disorders, fines will grow immensely – reaching up to 1 million roubles ($33,000) for organizers.
---