Rumors of German-Israeli nuclear missile deal pique debate on 'special relationship'
German leaders have always made support for Israel's security a part of their foreign policy, but as the Holocaust recedes into the past, fewer Germans agree.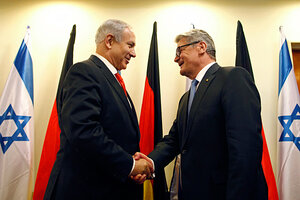 Lior Mizrahi/AP
"Special Relationship" is a term used to describe the relations between Great Britain and the US, but if ever there were two countries linked by historical events of unparalleled magnitude, it is Germany and Israel. The Holocaust has defined the relationship between the country of the perpetrators and the country of the victims, so much so that German Chancellor Angela Merkel frequently calls the security of the Jewish state Germany's responsibility, its "raison d'etre" even.
But not all Germans agree, and the decisions Mrs. Merkel makes based on that "special relationship" stir growing unease among many Germans.
This week Der Spiegel magazine ran a cover story about German submarines being sold to Israel. The article quotes several former members of the German defense ministry alleging that Israel is arming these submarines, delivered at very generous terms, with nuclear cruise missiles and that the German government has been aware of this modification for quite some time.
Neither German nor Israeli officials have commented on the story, but experts see it as an open secret. The fact that Berlin is not even denying it has led the political opposition and commentators to re-open the debate on the character of German-Israeli relations.
"The submarines are a vital addition to our national security," Israeli Prime Minister Benjamin Netanyahu told German tabloid Bild in an interview on June 5. "They are an affirmation of Germany's commitment to Israel's security."
---