Norwegian court gets to heart of Breivik trial: Is he sane?
With the beginning of testimony by a slew of psychiatrists, Norway's trial of Anders Behring Breivik has reached its crux – determining whether he was sane when he killed 77 people last summer.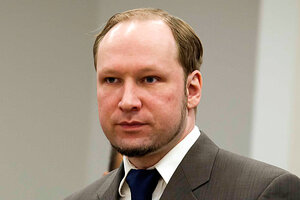 Heiko Junge/NTB Scanpix/Reuters
Eight weeks into the trial against Anders Behring Breivik, the case has finally turned to the key unanswered question about the Norwegian man who has admitted to killing 77 last summer in twin terror attacks: Was he sane when he did it?
The court heard testimony today from the first of 17 psychiatric experts scheduled to appear in court over the next two weeks to help the court make that contentious determination. Experts sharply disagree on his diagnosis, which will have a major impact on the severity of his sentence.
Two conflicting psychiatric reports have been presented in the trial. The first, in November, found Breivik to be a paranoid schizophrenic and hence criminally not punishable for the killings, while the second, in April, found that Breivik had personality disorders, but no signs of psychosis.
The psychiatrist who went on the stand today testified that, in his opinion, Mr. Breivik was not psychotic when he placed a car bomb outside Oslo government buildings and then went on a shooting rampage at the Labor party's youth summer camp at Utøya island last July.
Ulrik Fredrik Malt, professor in psychiatry at the University of Oslo, said that after observing Breivik in court for seven days and reading both forensic reports, it was his "academic opinion" that Breivik possibly suffered from narcissistic personality disorders – as the second report found – and possibly Aspergers or Tourette syndrome.
However, although he could not rule paranoid schizophrenia out entirely, there was a "less than 25 percent" chance that Breivik fit the criteria, Mr. Malt said.
"The first thing I saw when I came into court the first day was not a monster, but a deeply lonely man," he said. "This is a tragedy for Norway and for us, but also a tragedy for Breivik," he added.
---