In Spain, public distrust feeds economic meltdown
In Spain, misinformation and cover-ups have undermined Spaniards' trust in their government and its plan for economic recovery, with repercussions that could resonate all the way in Brussels.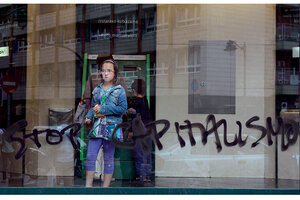 Vincent West/Reuters
Bailouts from Ireland to Greece have tested the eurozone's resolve to stay together, as has Germany's unwillingness to budge on its austerity-only recipe for struggling members. But the specter of a eurozone breakup transcends the travails of any individual country.
Spain's recent upheavals have underscored the bloc's main weakness: trust that leaders are not only acting wisely, but are also being transparent about their actions. Spain has become something of a test case for how public distrust can be a corrosive force as Europe scrambles to find solid economic footing.
The fate of Europe and the world's economy is at stake. Spain's cost of borrowing leapt to a record high of 7 percent in early June, despite a multibillion-euro rescue from Europe, because markets have lost the little faith they still had in its promises. Spanish authorities have warned that the situation was unsustainable. Markets have essentially shut their doors to Spain; and the consequences reach far beyond its borders, since Europe's bailout stash is unable to finance the needs of Europe's fourth-biggest economy, and a Spanish collapse could drag the eurozone down with it.
"With more credibility, things could have been different. But Europe doesn't have a clear solution and Spain has mishandled [the crisis]," says Rafael Myro, a professor at the Universidad Complutense de Madrid and an expert in foreign investment. "But the credibility problem is predominantly European. The fear the [European Union] will break up is bigger than the problem of any country."
---