Psychiatrists: Breivik was sane during Norway attacks
Two forensic psychiatrists finished their testimony today, arguing that Anders Behring Breivik did not suffer any psychosis when he prepared and launched his terror attacks last July.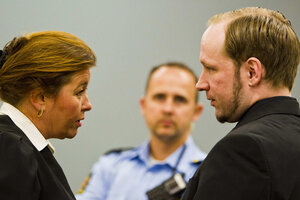 Vegard Groett/NTB Scanpix/REUTERS
The trial against Anders Behring Breivik wound up its final week with psychiatric experts defending their diagnosis that deemed Norway's most notorious killer in modern times sane and criminally punishable for last summer's twin terror attacks.
Terje Tørrisen, one of the forensic psychiatrists behind the second of two reports on Mr. Breivik's mental condition, testified in Oslo court that Breivik's ability to trade stocks and establish illegitimate business enterprises with multiple foreign bank accounts in the years prior to the attacks proves he did not suffer from cognitive deficiencies, as posed in the first psychiatric report, which found Breivik insane.
Mr. Tørrisen also pointed out that the mental health personnel who reviewed Breivik at Ila prison shortly after his politically motivated attacks last July, which left 77 dead, found no signs of psychosis.
"[His] political beliefs are extreme, but not reality-bursting in the psychotic sense," said Tørrisen, citing one of the doctors who assessed Breivik in late August.
The two days of testimony by Tørrisen and report coauthor Agnar Aspaas will be key in determining whether the prosecution adjusts the indictment later this week to a maximum sentence of 21 years on terror charges. The prosecution is currently recommending that Breivik be sent to compulsory mental-health care based on the first psychiatric report, which deemed him insane and was the only one at the time of the indictment.
Svein Holden, Oslo public prosecutor, has stressed that he would wait until Tørrisen and Mr. Aspaas finished testifying before making a final decision on its indictment, which opens for changes. "We have just begun [writing closing arguments], but unfortunately we have a lot left," Mr. Holden told the press at the end of court today.
---