Russia's outreach to Syria's opposition hints at policy pivot
Russian officials will meet with two Syrian opposition members later this month, as well as UN envoy Kofi Annan, raising hopes that Moscow's support for the Syrian regime is weakening.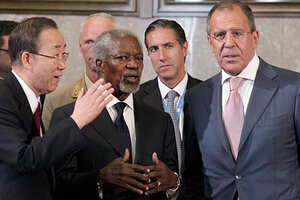 Denis Balibouse/Reuters
Russian officials will hold talks in Moscow with two key Syrian opposition leaders and United Nations envoy Kofi Annan later this month, amid signs that the Kremlin is ready to throw its weight behind Mr. Annan's revised plan for a transitional government and might even be starting to think seriously about life after Syrian strongman Bashar al-Assad leaves power.
Russian Deputy Foreign Minister Mikhail Bogdanov was quoted by the official RIA-Novosti news agency as saying that the first representative, writer and opposition support Michel Kilowill, is expected to arrive later this week. The new head of the Syrian National Council, Abdulbaset Sieda, will visit Moscow after July 10, and Annan will come for talks around the middle of the month.
The talks with opposition figures are "important because we have to do our best to implement Kofi Annan's plan and decisions of the Geneva conference," the agency quoted Bogdanov as saying.
---