Many Russian NGOs face 'foreign agent' label
A draft law requiring NGOs that receive outside funding to register as 'foreign agents' will further limit their political independence.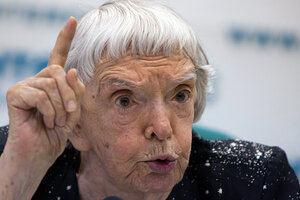 Alexander Zemlianichenko/AP
Russian civil society activists are sounding an alarm over a draft law poised to be rushed through by the pro-Kremlin United Russia majority in the State Duma, requiring any political non-governmental organization that receives funding from sources outside Russia to label itself as a "foreign agent" in its public activities.
Activists say the new bill is a companion to the draconian law on protests, which shot through all the legislative hoops and was signed into law by President Vladimir Putin in the space of barely a week last month. They warn that the bill's definition of political activity – any attempt to "influence state policy or public opinion" – casts such a wide net that authorities will inevitably use it against any target they choose. An organization that refuses to register as a "foreign agent" could be suspended for up to six months without a court order, under the draft law.
Many view it as part of a spreading crackdown that they say is aimed at snuffing out the political protest movement and snipping off what the Kremlin views as the movement's roots in election monitoring, human rights, environmental and other civil society groups that challenge authorities on various levels. Although the label "foreign agent" – which is synonymous with "spy" in Russian – may not frighten people in more sophisticated Moscow circles, NGO leaders say, it's likely to cast a chill over their activities in the Russian regions to which they are trying to expand their work.
---