More prison for feminist punk rockers riles liberal Russians
A Russian court refused to grant bail on Monday to three alleged members of the controversial feminist rock band Pussy Riot for alleged hooliganism.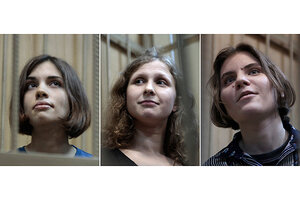 Sergei Karpukhin/Reuters
The controversy over the provocatively named Russian punk rock group Pussy Riot, which profaned an Orthodox altar by singing an obscene anti-Putin "prayer" in Moscow's most important cathedral, notched up this week when a court refused to grant bail to three of the female band's alleged members.
The women will be held until a court date is set for their trial, which will not happen until at least July 24.
The band members were arrested and charged with "hooliganism" for their performance inside the church in February, although no one was hurt and no property was damaged. They could be imprisoned for two to seven years if convicted. The women, two of whom are mothers of young children, have been incarcerated in a Moscow pretrial detention center for almost six months. Amnesty International recognized them as prisoners of conscience in April.
The issue has divided Russian society into two camps. The first group thinks that their song represents an insult to the religious sensibilities of the majority, which ought to be a criminal offense punishable with jail time. A significantly smaller group – concentrated among Russia's intellectual and artistic communities – argues that while the women may be guilty of bad behavior, their actions should not be considered a serious crime in any secular society. Legal experts now agree, warning of a decrease in public confidence in the Russian judiciary and government institutions.
---