Oh, for the simpler Olympic Games of 1948
In today's dollars, the 1948 London Olympic Games cost about $33 million. This year's tab: about $17 billion. What happened?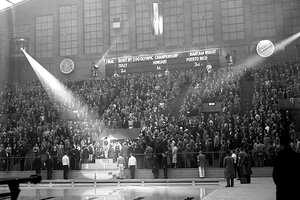 Action Images/Reuters/File
When London last hosted the Olympics in 1948, the Games lacked nearly all the trappings of the mega-event they have since become.
Organizers reused existing venues, such as an old velodrome that had housed aerial defense balloons during the war. It lacked lighting, however, so officials turned on car headlights to see the finish of evening bike races.
Boxing and swimming took place in the same Wembley arena. The swimmers competed during the first week, then a boxing ring was built atop the pool, with no time to drain it.
As London hosts a big-budget modern Games this summer, nostalgia can be heard here for the simpler spirit of '48, one focused more on sport, and without the blown-out public budgets and corporations cashing in on stardom.
"These really were the people's Olympics. There was no element of corporate branding and sponsorship. People traveled around in buses," says Iain Sinclair, a noted east London author. "It's now become so grossly swollen and supporting such a mass of people who view themselves as entitled [to] VIP lanes."
Mr. Sinclair says the Olympics have turned into "an excuse for ripping up tranches of the [host] city and remaking it, and then half of it having to be abandoned later."
While London 2012 can be seen as a slight correction to the massive Beijing Games four years ago, the choice of London over Paris as host suggests the Olympic Committee still loves to see cities spend big and build more.
---