Reform the UK House of Lords? For now, the nobles keep their seats
UK Prime Minister David Cameron called off a vote on fast-tracking reform of the unelected House of Lords after a group of Conservatives balked.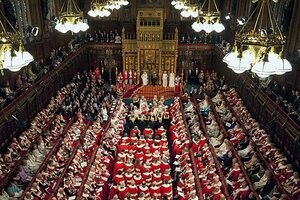 Alastair Grant/AP
It may seem a surprising matter for politicians to be focusing their energy on internal reform amid a severe economic crisis and a high-profile banking scandal, but the future of the British House of Lords has sparked a row that weakened the prime minister, David Cameron, and threatened the unity of the coalition government.
Tuesday, Mr. Cameron called off a vote on fast-tracking reform of the Lords, Parliament's second house, after a group of around 90 conservative rebel Members of Parliament said they would defy a three-line whip – a party command – to vote in favor of speeding up reform.
Currently, the 14th-century House of Lords is made up of 800 appointed – not elected – members, who are nobles and bishops. A reform bill would see the house reduced to 450 members, 80 percent of whom would be elected.
The Liberal Democrats have long supported such a reform, first campaigned for by their liberal predecessors a century ago. A discussion of reform of the Lords was part of the Liberal Democrats' coalition agreement with the Conservatives in 2010.
---