As blast rattles Syrian regime, defecting general reemerges in France
Gen. Manaf Tlass, a former member of Assad's inner circle, called yesterday for a 'constructive transition' from Syria's regime, which is reeling from the assassination of several ministers.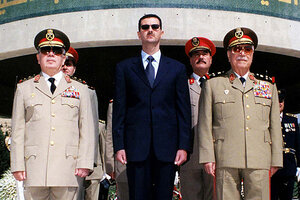 Sana/AP/File
As the assassination today of several Syrian ministers moves the crisis into higher gear, Syrian defector Gen. Manaf Tlass, a former member of the inner Assad family circle, has surfaced in Paris, ending two weeks of speculation about his whereabouts.
"He is here," French President François Hollande told reporters Tuesday evening, confirming that Tlass, the former commander of the elite 105th Republican guard, has been in Paris since escaping Syria by way of Turkey late last month.
Tlass also released a written statement last night to the media, describing how he had been isolated in Syria after disagreeing with the scope and scale of military attacks on civilians.
"I can only express my anger and pain to see the Army forced to fight a battle against its own [military] principles. It is a battle being led by security forces in which the people and ordinary soldiers are the victims…. My conscience and convictions drove me to oppose and distance myself from this destructive crackdown."
He called for a "constructive transition" away from Syria's current regime of President Bashar al-Assad – even as fighting intensified today in Damascus, and opposition rebels claimed a turning point in the 17-month conflict that started as a peaceful protest for more rights and freedoms, the tail end of the "Arab Spring."
---