Russians fear Pussy Riot trial is just the start
The women who make up the punk group Pussy Riot are being prosecuted for "religious hatred," which many Russians see as the Kremlin's latest tactic for silencing dissent.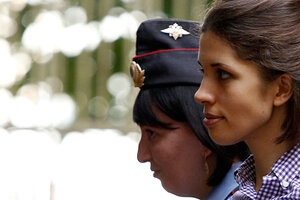 Maxim Shemetov/Reuters
The Moscow trial of three young punk rockers, known as the Pussy Riot women, is expected to wind up later this week. But the controversies set off by the high-profile prosecution and harsh treatment of the women – whose original crime was a 40-second "punk prayer" in an empty church that damaged no property and harmed no one – are likely to reverberate for months to come, regardless of what verdict is handed down by Moscow's Khamovnichesky District Court.
The most important question hanging over the trial is why they are being prosecuted for the very serious crime of aiming to incite "religious hatred" – which carries a sentence of two-to-seven years in jail – when the women themselves insist they are baptized Christians who had no intention of offending believers. They insist they were protesting the Orthodox Church's explicit political endorsement of Vladimir Putin, who was still running for president on the night of their Feb. 21 performance.
---