In London's riot-torn neighborhoods, Olympics buzz feels far away
A year after Britain's worst rioting in decades, scars remain in London's Tottenham district. Many young people in cities say that rioting could break out again as poor conditions persist, says poll.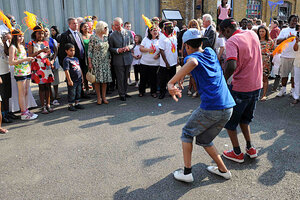 Paul Hackett/Reuters/File
The Olympics fever gripping crowds just a few short miles away is weak in the north London district of Tottenham, the starting point for riots that last year saw the area become a battleground at the outset of Britain's worst civil disorder for decades.
While many of the shops that were looted or burned have been reopened, scars remain on the main artery, the Tottenham High Road, where work to resurrect a torched supermarket continues behind boarding with a banner pledging: "We are never far away – we'll be back soon."
Worries for the future are also fueled by soaring youth unemployment and continuing tensions surrounding the investigation into the spark for the rioting, the police shooting of a man from Tottenham's black community. Even as Olympic medals were being won in recent days, rioters who rampaged across west London were being being given some of the harshest sentences for crimes committed during last August's disorder.
It's against this backdrop that commentators and political figures like London's Conservative mayor, Boris Johnson, have talked up what they see as the potential of the Olympics to make a repeat of the riots less likely, while others warn of potentially perfect conditions for new riots as Londoners in deprived areas go back to harsh local realities amid a post-Olympic letdown.
---