Prospect of new wave of austerity looms over Britain
New data show Britain's tax receipts down and government borrowing up in July, prompting criticism that Cameron's Conservative government is doing 'too little, too slowly' to engineer an economic recovery.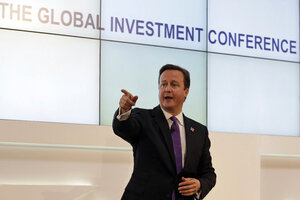 Alastair Grant/AP
As a summer of flag-waving at the Olympics and the Queen's Jubilee draws to a close, Britons are being reminded of cold economic realities as data reveal a slump in tax receipts in July – traditionally the second-biggest month for such receipts.
The figures have contributed to a sense that Britain's Conservative-Liberal Democrat coalition now stands a crossroads as it attempts to initiate an economic recovery. Should it replace a program of sweeping cuts with a more Keynesian one based on investment, or stay the course and perhaps even go further down the road of austerity?
After proceeds from corporation tax sank by 20 percent in July, the treasury blamed a cut in North Sea oil and gas production, following a fire. But analysts, as well as partisans in both coalition parties, also seized on the fact that the government was last month forced to borrow £600 million ($952 million), compared with a surplus of £2.8 billion at the same time last year.
"There is a lot of pessimism around in general about the future, so businesses are simply not investing and taxes are not coming in," says Eamonn Butler, director of the Adam Smith Institute, a libertarian think tank.
He highlighted a survey of company bosses released Wednesday by Britain's Institute of Directors, which found that many were "battening down the hatches" because they felt that the government was doing "too little, too slowly" to engineer an economic recovery.
"In this situation, you basically need to do something which is shocking," says Mr. Butler. "You need to take the shackles off business, have a serious deregulation campaign, and stage a serious assault on the tax system to simplify it and reduce the higher rates of taxes on individuals and companies.
---