Why there's been so little ado in Britain over naked Prince Harry pics
British reaction to Prince Harry's Las Vegas photos has been relatively muted, with the media holding back due to ethical concerns and the public enamored of the prince's charm.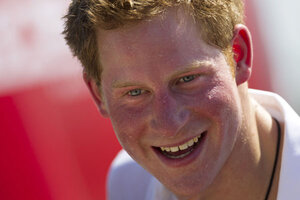 Felipe Dana/AP/File
Pictures of Prince Harry naked in a hotel room in Las Vegas have harked back to the days when he was seen more often emerging disheveled from nightclubs than behaving with decorum at official functions.
But thanks to a media fearful of ethical scrutiny and a public enamored of Harry's emergence as one of the royal family's most valuable assets – dedicated, hard working, with an easygoing charm – the British reaction to Harry's redux of his "playboy prince" youth has been comparatively muted.
The two grainy images of Harry, almost certainly taken on a camera phone on Aug. 17, perhaps by a member of the prince's entourage, first appeared on Los Angeles-based gossip website TMZ, before spreading to a number of other websites and newspapers.
According to TMZ, Harry and his friends had invited unidentified women from the hotel bar up to their VIP suite, where they played a strip game at a pool table.
"It's a dichotomy of an image: One minute he's looking smart next to the Queen, the next he's naked in a hotel suite," says Robert Jobson, author of the prince's biography, Harry's War.
"I think he's been a bit let down by his security detail and he should have been more cautious. But that's the kind of guy he is: a trusting, gregarious, open kind of chap."
He added that as Prince Harry, third in line to the throne, grew older the British public's toleration of such behavior would diminish. "No one begrudges a young, single guy a bit of fun, especially before deployment, but he's pushing thirty now and he does have responsibilities."
---