As British press hold back on Harry pics, worries of a media chill
Scandalous photos of royals were once British tabloids' bread and butter, but only one paper has published the latest Prince Harry photos. Such restraint may hint at a constrained press.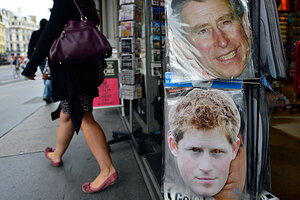 Toby Melville/Reuters
When pictures of Prince Harry, playing strip billiards in a Las Vegas hotel suite, appeared on websites and in newspapers around the world last week, it seemed like dream front page material for Britain's tabloid newspapers. After all, his family has long been fodder for Fleet Street: Prince William is believed to have had his phone hacked by journalists in 2005, and their late mother Princess Diana was famously plagued by tabloid paparazzi after she married Prince Charles.
But Britain's scandal-loving press held back. Only one paper, The Sun, published the pictures, in what media critics hope – and journalists fear – may become an inhibited new norm for the British media.
The ostensible reason for their restraint was a letter written by Harbottle & Lewis, Prince Charles' lawyers, to the Press Complaints Commission (PCC), warning editors that the pictures should not be published as they were taken on "an entirely private occasion" where Harry had a "reasonable expectation of privacy."
But journalists have been quick to argue that newspapers would have published the pictures with alacrity had it not been for the ongoing Leveson inquiry into media standards, which is likely to recommend tougher regulation of the British press when it publishes its report this autumn.
---