With shakeup, British government runs to the right
British Conservative leader David Cameron's cabinet changes are not expected to threaten the coalition's stability, but some Liberal Democrats are wary of its policy implications.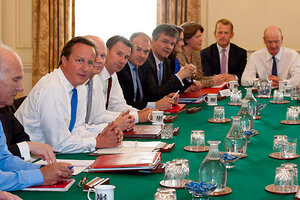 Neil Hall/Reuters
Britain's Liberal Democrats fired a shot across the bows of their Conservative coalition partners Wednesday, warning that they are ready to push back if this week's government's reshuffle of cabinet posts threatens to turn into pressure for a policy shift to the right.
Under particular pressure from right-wing elements of his increasingly fractious party, Conservative leader David Cameron this week used his first cabinet reorganization since becoming prime minister to make a series of new ministerial appointments that raise the likelihood of fresh coalition rows, and perhaps even an eventual split, over issues including the environment and crime.
"If we have got Conservative ministers who want to do more right-wing, reactionary things, it shows the Liberal Democrats are all the more important in stopping them," Tim Farron, the Liberal Democrats' party president, told the BBC Wednesday.
Seeking to counter a mid-term plunge in the popularity of his administration, Mr. Cameron began the reshuffle Monday, branding it an exercise designed to ensure "delivery" of major policy commitments by bringing in new faces, such as the former chief executive of the London 2012 Olympic organizing committee, Paul Deighton.
The headline appointment was the transfer of the health portfolio to Jeremy Hunt, a minister previously embroiled in controversy over a bid by Rupert Murdoch's media for full control of Britain's largest pay-TV broadcaster. However, future fault lines with the Liberal Democrats were identified in the appointment of a much more hard-line new Tory justice secretary, Chris Grayling, and, as predicted, the departure of Tory Transport Minister Justine Greening, who had sided with the Liberal Democrats in resisting pressure to expand Heathrow Airport.
While few commentators seriously regard the changes as a threat to the coalition's stability in the short- to medium-term, tensions under the surface were also illustrated by claims Wednesday by Tory backbench parliamentarian Rob Wilson that the reshuffle was "part of the process of the divorce with the Liberal Democrats."
---