For first interview of new term, Putin puts priority on foreign audience
Putin opined on Obama vs. Romney, crackdowns in Russia, and Pussy Riot in a 40-minute interview given, unusually, to an English-language state channel instead of a bigger outlet.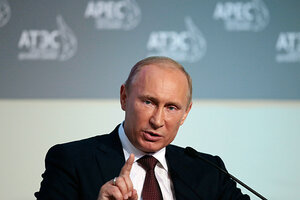 Mikhail Metzel/AP
Vladimir Putin has addressed what he sees as key misunderstandings in the West concerning his leadership and Russian policies in his first lengthy interview since being inaugurated for his third term as Russian president.
Many analysts say they're puzzled why Mr. Putin chose a Kremlin-funded boutique station, the English-language Russia Today (RT) network, rather than a major Russian or Western outlet, for the 40-minute interview, but there seems little doubt that he had a foreign audience uppermost in mind. In the course of his chat with RT's suave British anchor, Kevin Owen, Putin fielded questions about Barack Obama, Mitt Romney, the Kremlin's controversial Syria policy, Pussy Riot, the alleged clampdown on Russian opposition, and the tragic death of lawyer Sergei Magnitsky in a Moscow prison.
---